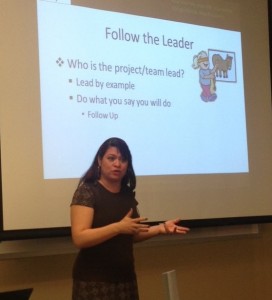 Lynn delivers value-driven content in an enlightening and entertaining manner making information delivery fun and engaging.
If you need a dynamic speaker to motivate your group, Lynn will not disappoint.
Lynn has spoken to several different types of organizations, including:
Team monthly meetings
Project Management Institute (PMI) chapter meetings
Professional associations, such as Chambers of Commerce sessions
Business roundtables
Industry groups, such as User Groups and SharePoint Saturday Events
Contact Thriveology today to plan an interactive session for your group! Contact Lynn for more information.
Public Speaking Coaching
Speaking from a public platform is rewarding IF you can engage your audience. Keep in mind that if you lead a meeting, a team, conduct meetings or presentations, or speak to clients – you are a speaker! Effective speaking skills will enhance all areas of your life. Thriveology can help you hone a dynamic message and deliver it from a performance perspective.